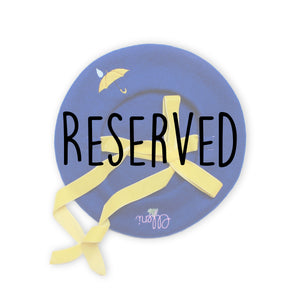 RESERVED FOR ABBY
Rainy Days Beret in light blue
Are Rainy Days for you? Then so is the Rainy Days Beret! She features an embroidered umbrella on the rim, and velvet yellow ribbon that can be tied any way you please.
Each Rainy Days Beret is lovingly hand made, so may differ very slightly from the beret pictured. 
Beret: 100% wool
Berets are offered in one size, designed to fit the average adult. Model's head is about 56cm and all berets fit with extra room. Take a peek at @ellenithelabel to see berets modelled on lots of different heads! Due to the small business nature of the label there can be a very slight variation in size from piece to piece - if you have a preference, feel free to make a note on your order or shoot an email to hello@ellenithelabel.com once your order is placed so size comparisons can be made when packing your order to ensure you receive the biggest/ smallest of the bunch!